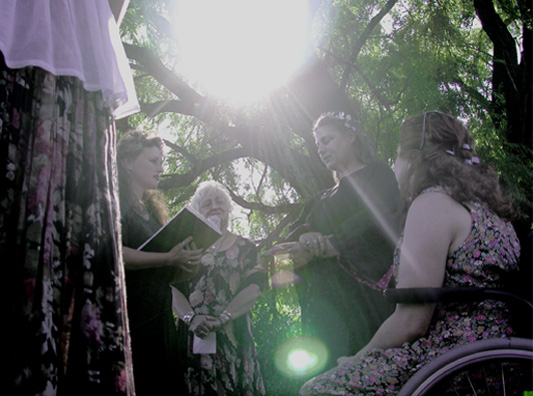 MERRY MEET~
My name is Lady Draconis and this is the Coven, Sisters of the Crescent Moon's home page.
This site is dedicated to the Wiccan path and fighting the fear by educating those who do not know Us.
Our coven has been in exsistence since Jan. 2001. We have grown from three members plus myself to ten members plus myself.
We meet on Moon day of each week to meditate, hold prayer circles, weave spells, preform Ritual, learn and talk. We also meet on the Esbat of each month and most Sabbats. Our religion is based in love.

"Do what thou will, So long as it harms none.
So mote it be"








About our High Priestess
My Craft name is Lady Draconis. I have been a self confirmed Wiccan for eight years. I was raised in a semi-Christian home and could never grasp the concept of 1 god. I was expelled from Bible study for asking too many questions and I talked to "things" that others couldn't see. I believe that trees cry when you cut them, fairies live in my house, dragons protect me when I am walking alone down a dark street and the Goddess gave birth to our world as we know it. What I know now, that I didn't know then, is that my beliefs make me a Wiccan and my abilities to divine, forsee the future and heal the pains of others, makes me a Witch. I am a life path #9 and a pieces. I am happily married and a Mommy of one, sweet little girl. I enjoy reading, writing childrens' stories and Pagan childrens' songs. I enjoy making candles and ritual clothing and I love to cook. I have been cultivating my divination techniques for about three years, now. I enjoy herbal grimoire, candle magic, spell construction and the healing powers of stones. And I learn more every day. Merry meet!
Welcome To The Home of SOCM
Thank you for checking out our site. We have finally found a home here in "20m".
Please pass our address on to others.


I teach an eclectic style of Wicca, pulling many beliefs from Seax Wicca, Gardenarian Wicca and a culmination of original beliefs, spells and rituals written and perfected by the Sisters of the Crescent Moon.
There are some suggested books to read and grimoire from my own Book of Shadows. Please, take them in perfect love and perfect trust. There are also poems, recipes and pictures. So stay and have a look around.
Meet the Coveners
Rowan is our red headed warrioress.Her corner of expertise is in the magic of stones.
Arthema is our treasurer and co-founder of our coven's charity PFMP (pagan families for military personelle) She is a devoted student of biology and the healing powers of herbs.
Sarah is our resident fairy and has a natural talent for calming and healing.
Mistress Luna is our former handmaiden. Our lady of the Moon.
Mother of Luna is our Crone and woman of wisdom.




Visit Wolfstar at the Witches Sanctuary by clicking on the banner above.
Send Lady Draconis an email